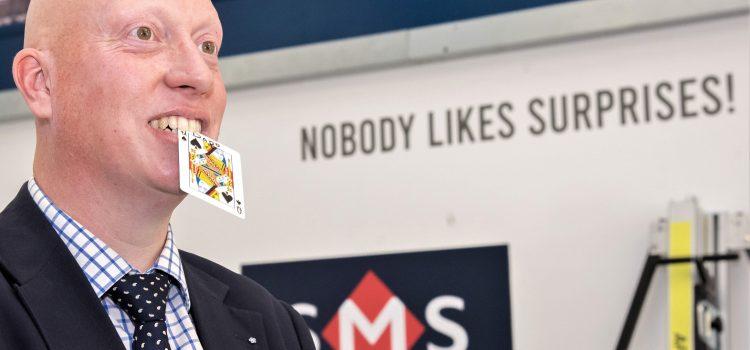 On Friday 30th of August I headed into Portsmouth to help the staff of FastSigns Portsmouth celebrate the opening of their new location off of the Airport Service Road.
It was a glorious (and hot!) day, and it had a really good atmosphere – considering it was still part of the working day! 😉
From a personal point of view I had an absolute nightmare getting there. I always allow extra time to get to the venue to prepare (which admittedly doesn't take very long, but I err on the side of caution), I also allow extra time in case I arrive at a venue and need to start early.

And to allow for all of this, I allow additional time should there be any hold-ups en-route. This usually means that I arrive at venues and spend a little time sat in my car doing admin on my phone, updating social media or reading a magazine – and that's before I go in to say that I've arrived.
In thirteen years of performing at hundreds of parties only twice has this triple later of contingency extra time meant that I've had to start late – and this was one of them.
I left home with plenty of time and (no doubt because it was a sunny summer Friday afternoon!) the sat-nav recommended an alternative route to avoid traffic. Unfortunately this route was more of a scenic route, and meandered through the lovely villages of Hampshire. Unfortunately this route was single carriageway and just ahead of me an accident occurred completely blocking the road in both directions. What's worse is I had not idea where I was, and the accident so new my sat-nav didn't know about it to work out a new route.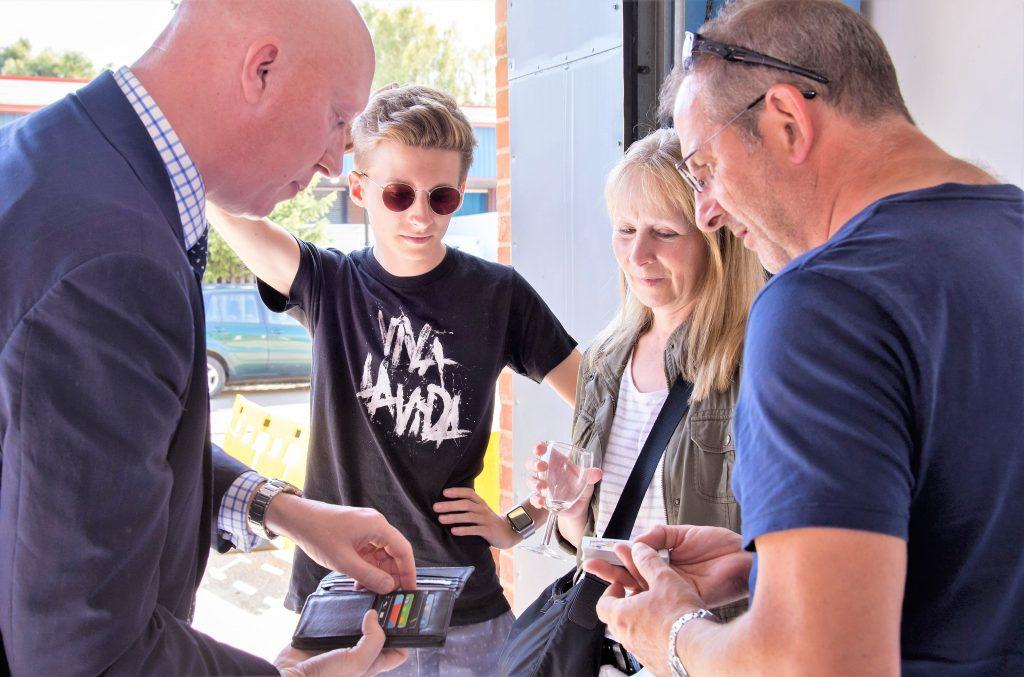 After going round in circles (I genuinely went through the same village three times!!) I eventually got my bearings and got back onto a road I recognised. Of course, during this I kept Glenn (the director at FastSigns Portsmouth) up to date.
I'd manage to do my final prep in the car so screeched up to their offices at 3:03pm, walked straight in and went straight up to a group of people to start performing by 3:04pm.
Although I felt terrible about starting 4 minutes late most of the guests didn't start arriving until about 3:30pm, and to make up for it I made sure I stayed well over 4 minutes longer entertaining all the FastSigns staff who had missed much of the magic because they were talking to clients.
However, I needn't have worried because Glenn and the FastSigns team were really pleased with the magic, and were more than happy with the entertainment I gave their guests – including the MP of Portsmouth who cut the ribbon with a giant pair of scissors.
A couple of days later then sent over a selection of photographs showing everyone enjoying themselves, and said the following:
Thanks for being part of our event – it was a great addition that went down really well with the guests.

FastSigns Portsmouth
If you are holding an office party, summer barbecue, opening or product launch and want to ensure that your guests are not only entertained – but wowed with close-up magic and mind-reading that they'll link back to your company then get in contact for more details.
… And I promise I won't start 4 minutes late!
FastSigns Portsmouth Branch Opening Party