On the evening of Friday 16th August I had the honour of performing at Frasers Office Supplies 100th anniversary gala dinner. They are a Berkshire based company, and the event was held at the Reading Hilton.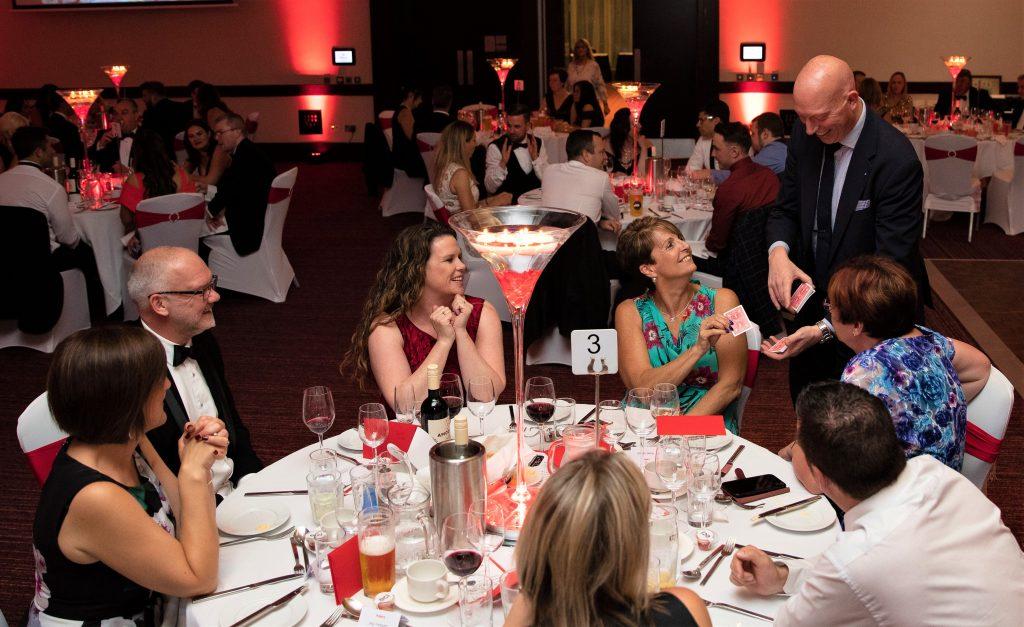 As well a using it as an opportunity to celebrate, it was also an opportunity to raise funds for two locally based charities, Launchpad Reading and Daisy's Dream.
I started the evening mingling in the drinks reception as guests arrived, settled in and sipped a glass of Champagne.
Being a company that provides office supplies I naturally tweaked my magic and close-up tricks to include items of stationery (such as pens, paper, paperclips and elastic bands). Not only did this go down well, but the look on people's faces as I handed them the item at the end of the trick and said, "You can get it yourself, they're on page 47 of the latest catalogue"!!
Once everyone was called through for dinner I continued to mingle around the tables, now showing more close-up magic and sleight of hand card magic.
After dinner there was a short presentation by Alan Fraser, one of the directors and descendant of the founder; who gave a brief history of the company – which started off making typewriters after the First World War. This was followed by presentations by representatives of each of the charities.
Once the presentations were done I took to the stage and did a short version of my mind-reading cabaret show. (The full after-dinner show lasts about 45 minutes, but I have shorter versions – and they still had a disco to go!)
By focusing on mind-reading it gets all different people involved (who are all randomly selected at the time – no stooges or pre-selected volunteers!) It's an engaging show keeps everyone's attention.
Following the event Alan forwarded on some photographs of me performing both close-up magic and mind-reading cabaret. I've combined these into a short video, which I think helps capture the atmosphere of the event.
Hi Robert

Thank you so much for attending our 100 year Gala dinner, it was fantastic to celebrate this milestone with so many friends and colleagues.

Feedback from the guests was you were fantastic!

Alan Fraser and Nick Clark
Over the course of the evening £750 was raised (and generously topped up by Frasers to an incredible £3,000) and shared between Launchpad Reading and Daisy's Dream.
If you would like to find out more about how I can entertain at your corporate event please get in contact.
Frasers 100 Year Gala Dinner