In November I was booked by Louise for a fund raising event in at Stanwell House Hotel, Lymington in the New Forest to raise funds for Hammersley Homes.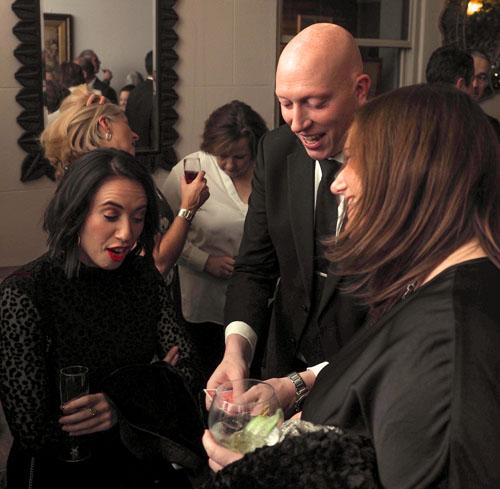 To say the evening was a success was an understatement, as the night raised funds of over £50,000!
Hammersley Homes is a charity that provides a safe home for life, for adults suffering from enduring mental illness. You can find out more about them at their website: www.hammersleyhomes.org, and I highly recommend following their Facebook feed (www.facebook.com/hammersleyhomes) where they regularly post updates on issues pertaining to mental illness in adults and how Hammersley Homes could be beneficial to those in need.
I grew up locally to Lymington and still regularly perform at events in the local New Forest area, but this was the first time I'd been to Stanwell House Hotel, which is on Lymington High Street.
The evening itself had a "Black and White" theme and I started mingling with the guests as they arrived at Stanwell House. It didn't take long for the room to start packing out as guests had their photograph taken on their arrival, and waiting staff circulated with canapes.
The guests then took their seats around tables spread through-out the venue and I circulated around them showing them more magic and mind-reading – even managing to get to some tables two (or even three!) times.
Quite often organisers of fund-raising events will try and arrange the event "on the cheap", the idea thinking that by cutting out on the "extras" will leave more funds to go to the charity. However, this is often a false economy.
By including these "extras", such as myself to bring my magic and mind-reading to an event gives the guests a better feeling value they get from their ticket purchase. (In fact these costs can be small when calculated on a 'per head' basis). But if guests feel as so they are getting value from their ticket they are more willing to be more generous when it comes to purchasing raffle tickets and bidding in auctions.
Of course, if they are relaxed, being entertained and having fun (as opposed to standing in a room making forced small talk!) they are more likely to get into the spirit. And that means having a few more drinks – and that can mean buying a few more raffle tickets or placing a few extra bids in the raffle! 😉
A few days later Louise sent me the following email, as well as some pictures:
Dear Robert,

Thank you for your truly wonderful and amazing contribution to our evening in Lymington on Saturday – everyone was amazed by your magic and it was the most commented on part of our evening, so huge thanks.

I'm pleased to say that the whole event seemed to go well and we reached our fundraising target of £40,000 so I'm thrilled to bits about that.   I've received lots of compliments on the whole event, but most mentioned you and your extraordinary magic.   Utterly wonderful.  Thank you so much.

Best wishes, Louise
And as previously mentioned more funds came in over the following days to bring the amount raised to over £50,000.
It was a privilege to be involved in such an event which raised so much for such a good cause. Of course congratulations must go to Louise and everyone else involved in organising the event, and also to everyone who attended and supported Hammersley Homes.

Already people that saw me there have enquired (and one has confirmed) about booking me for their future events.
If you are interested in find out more about how I can entertain guests are your event (and by adding value to their evening, hopefully increase how much funds you raise) please get in contact to discuss it.
Magic at Hammersley Homes Fund Raising Event in Lymington