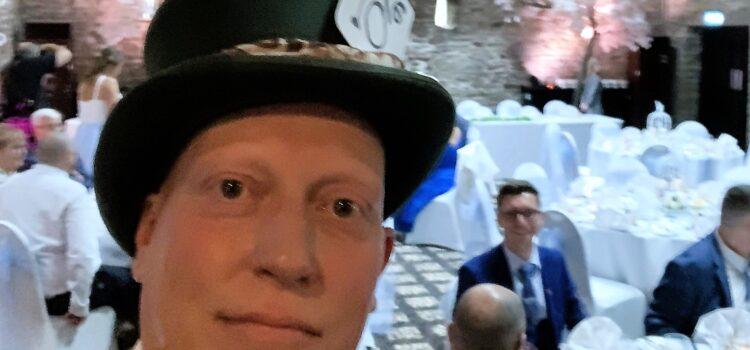 In July I took the trip up to the Lancashire Manor Hotel (near Wigan) to entertain at Jennifer and Pete's wedding – which unfortunately has to be postponed due to the Covid lockdowns. However, I'm sure many of the guests would agree that it was worth the wait!
Jen and Peter wanted to incorporate an Alice in Wonderland theme to their wedding, and with Jen being a graphic designer I knew it was going to be done well. What I really liked about how they themed the wedding is that they didn't go over-the-top with the theming; but it was more subtly implied. It must have been tempting to style the wedding breakfast as a Mad-Hatter's Tea Party; but the Great Hall at the hotel was decorated more as the King and Queen's banquet. Of course, this still allowed for the quirkiness of Wonderland to be incorporated, but still maintain the elegance.
And this leads to me. Usually when I entertain at a wedding I wear a smart dark suit and tie – my goal is to look smart and official. But being a Wonderland Wedding the magic would fit the theme perfectly, but the suit may not. Therefore I performed as the Magic Mad Hatter. Having read the Lewis Carol books this is my interpretation of the Hatter character, and applied it to my already established style of performing magic and mind-reading. This means I'm not trying to copy a Disney character or Tim Burton's vision.
This means still dressing smart (and wearing a freshly pressed shirt to go with the three piece suit), and putting together a clothing style that can appear a little chaotic, but actually blends and fits – complimenting the high quality magic, sleight of hand and mind-reading techniques that I perform. And fortunately this is exactly what was needed for Jennifer and Pete's stylish wedding.
The magic itself went down really well and was enjoyed by all. I arrived at the venue before the guests, so that once they got there following the ceremony I could mingle with them and help them settle in. My way of performing is interactive and gets people involved – perfect for helping everyone to relax and enjoy themselves. Jennifer and Pete had stayed at the church for some photos, but once they had arrived the guests were ushered into the amazingly decorated Great Hall.
Once the happy couple had made their grand (very grand!) entrance I continued around the tables. This works well because:
It helps the sections of the day flow for the guests as they entertainment overlaps from the reception into the wedding breakfast,
I can spot any unfamiliar faces that I may have missed in the wedding reception, ensuring no one misses out on seeing any magic,
I can also do a few special tricks for the top table, who (especially for the bride and groom) were off doing photographs,
It also keeps the guests occupied so they don't feel like they are waiting (either for the bride and groom to enter, or for food to be served).
Naturally I try to avoid entertaining whilst the food is being served or when people are actually eating, and liaising with the waiting staff is essential! 😉
Following the wedding I received a lovely email from Jen and Pete:
Hi Robert, We wanted to drop you a message to say thank you for much for coming to our wedding and providing such mind-blowing magic!

We had numerous comments from our guests about how amazed they were, and saying how close up the magic was which made it even more astonishing! The Alice in wonderland cards were such a kind touch, and my best friend loved the Rubik cube!

We honestly thought you fitted perfectly with our theme and made it even more special.

Jennifer and Pete
Find out more about booking me as your wedding magician here (whatever the theme), and more about my Magic Mad Hatter persona here (whatever the event). You can contact me for a quote using the form, or drop me an email at [email protected].
Magic Mad Hatter at a Wonderland Wedding