So, your manager has assigned you your most important, and problematic task to date – organising the Office Christmas Party.
You know that if the party is a success, you'll be the talk of the office for the rest of the year.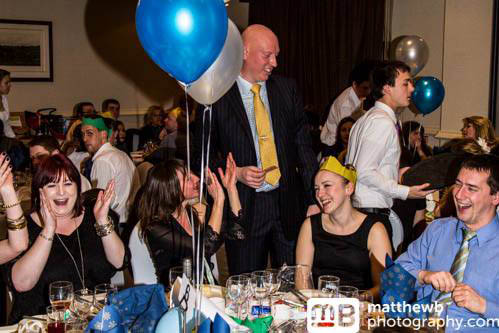 But what if the party is a bust? Well, you'll still be the talk of the office for the rest of the year…
To help you make sure you're the talk of the office for right reason, here are my top tips for organising a Christmas Party your co-workers will be thanking you for.
Set the Budget
If you're lucky enough to be the one that holds the purse strings, and depending on the type of company you work for, allocate a budget that is realistic for everybody's needs and expectations.
If your budget is set by your manager or the finance department, don't be tempted to begin to organise anything until they have given you an idea of how much you can spend.
Naturally the size of your budget will determine the type of party you will be able to organise.
And bear in mind who will be going: Will the board of directors be attending? Or will the party be held as a general thank you to the workers? What about partners, or just exclusively employees.
Knowing this will also dictate what type of event you'll be expected to organise.
Once your budget is known make sure you set aside some of it (perhaps 10%) as a backup. Unexpected costs can always crop up, or low ticket sales (if guests need to purchase a ticket) may impact your target spend. Don't be tempted to spend the lot straight away, ensure the essentials are covered first, then prioritise the other elements which you can book as the organising progresses.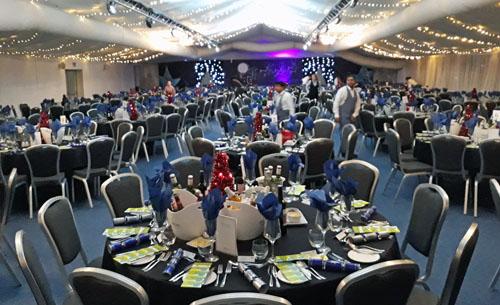 Location
Once you have your budget, you will need to make booking the venue for your Office Christmas Party your next top priority.
As with most things around Christmas time, dates tend to be snapped up fairly quickly, so the earlier you can confirm your venue, the better.
From the location perspective, try to find somewhere that would ideally suit the needs of the majority of your guests.
Remote locations may look beautiful, but can be expensive, as well as be problematic when needing to hail a cab or rely on public transport to get you to the party, and home again.
Some of your colleagues may opt to stay overnight either at the venue itself or close by, so do your research; and try to provide your co-workers with plenty of options that will suit all budgets.
Check if your venue has an events team, and if they do, make the most of them!
They will be able to advise you on whether there is a minimum number of guests is required to host an event, what would be available for you to use, and what items will come at an additional hire cost.
Items you may take for granted, such as chairs, table clothes, entertainment equipment, decorations and staff for the night may by optional extras, so always check first.
At the end of the night, who will be responsible for cleaning up the room?
Sometimes your venue will do this on your behalf, sometimes they won't, so don't assume anything.
Always check with the venue, and/or with the venue's events team and if necessary, make sure you have any extra help needed for the end of the night.
It should go without saying, but before signing anything, ensure that you read through the contract, especially the small print. Make sure the contract covers everything you and your company requires, and that there are no hidden charges.
It is also worth checking the cancellation terms, insurance, restrictions and damage liabilities. Hopefully none of these will be needed, but knowing the details can give peace of mind and let you focus on the fun.
Food and Drink
People coming to an Office Christmas Party after work will tend to have two things in common.
They'll be hungry and wanting to eat
They'll be thirsty, and will want to surround the bar like buffalos around a watering hole!
Food
Your budget is going to be key so again; think about who the party is for, and what they're expectations will be.
When you don't have much to play with in the budget you may want to consider a buffet style option. This can be ideal if your colleagues would rather be drinking and dancing than sitting and making polite conversation with other workmates.
For a more formal, and expensive affair, you may want to begin the evening with a canape reception in addition to a sit down three-course meal.
Does the venue have (or is your venue) a restaurant? Or will you need to hire caterers for your event?
If you need to hire caterers, the venue may have preferred or recommend suppliers.
How will your food be served? Will you need waiting staff?
Again check whether this would be part of the cost of your event, or an additional extra.
Dietary requirements can be a minefield, so make sure everyone's needs are taken into account.
Vegetarian options are usually suitable for non meat eaters but do check if you need to also cater for vegans as well as for those with Gluten or other food allergies.
Whatever your colleagues requirements, make sure that whoever will be catering for your party is clear on your party's dietary needs. Let the venue know where those with dietary requirements are sitting on the table plan, and distinguish their place setting (perhaps with a sticker on their place-marker) so it is visible to the waiting staff.
It is worth also printing out a list of attendees and their menu options, it's unlikely everyone will remember what option they picked when they made their selection months ago!
Drink
As for your drink options, will you make room in the budget for an open bar? Or will your colleagues need to pay for their own?
As good system is to give all guests two or three drinks tokens. This helps give fairness, otherwise those not drinking (such as drivers) may have a small glass of wine and a few soft drinks, whilst they watch their colleagues drinking countless glasses of beer, wine and washing it down with shots and chasers.
Perhaps limiting to a glass of wine on arrival may be better?
For sit down meals will you provide wine at the tables? For the average table of eight a bottle red and a bottle of white should be ample, and again ensure that those who aren't drinking don't feel hard done by.
Entertainment
When allocating your budget, it is vital you set aside funds for before, or after dinner entertainment.
If your co-workers love to dance, hiring a DJ or live band is always a good option.
Be warned!
Unfortunately, despite your best efforts, it can be all too easy for your Office Christmas Party to become a little stale.
This can be because people are forced to socialise with workmates out of the usual office context, or if your staff go out regularly, it could become 'just another office outing' – except with turkey and crackers!
For something that happens just once a year you need to make sure that your party stands out in the calendar and will be talked and reminisced about for the rest of the year.
That is where hiring me, as your Professional Magician will help.
Close up magic and mind reading is a great way to help enliven your Office Christmas Party and create talking points.
At the beginning of your evening I can mix and mingle with your guests during your drinks reception. This is the time where your colleagues will tend to gather in small groups, making small talk until it is time to sit for diner.
My style of performing takes advantage of this, and will help to pull others into the group to encourage interaction between everyone attending.
As well as close up magic, I can also perform a stand up mind reading cabaret show that has been specifically produced for corporate audiences.
This show can be as short as ten minutes, through to a full 45 minute after dinner show – giving the whole evening a consistent entertaining theme. One your colleagues (and your manger) will reminder!
Book Me Now
If you would like to go ahead and book me for your Office Christmas Party, or would like to find out more information, simply click the link and complete my online booking form – robertbone.co.uk/booking.
Your Essential Guide to Organising the Office Christmas Party