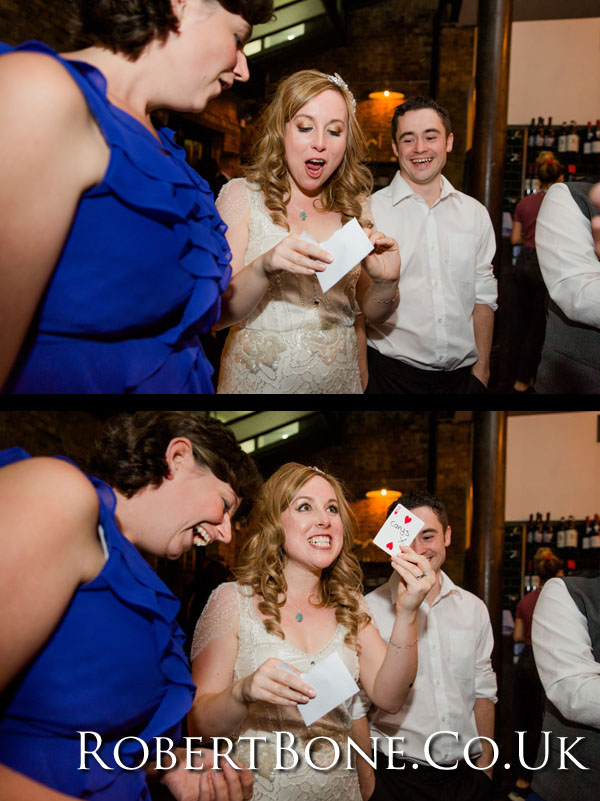 Hi, I'm Robert Bone, I'm a professional magician, mind-reader and Demonstrator of Extra-Sensory Curiosities (just a posh way of saying magician!), entertaining at weddings, parties and events all around Surrey.
Although I am most known for my close-up magic, I also perform a mind-reading cabaret show; and I entertain with a combination of sleight of hand, memory techniques, psychological reading and hypnotic suggestion. I like to mix things up, and combining these various methods into a really fun and interactive style of entertainment.
Add in my unique natural wit and it creates an exciting, fresh, lively and intellectually stimulating genre of magic – and sets me apart from other magicians. This is perfect for involving your guests with interactive entertainment (not only do I borrow objects from the spectators, they actively participate in making the magic happen – and even have their thoughts plucked out of their own minds!)
Talk about a talking point! 😉
Professional Magician for Events in Surrey
I'll be honest, I currently don't live in Surrey, but just a little over the border in Berkshire. However, it's "just down the road" and I regularly entertain at venues and private residences across the county. As a professional magician I am regularly asked to travel nationally, so I now class events in Surrey as being on my "home turf".
I'm often at events in and around the Guildford and Woking areas, and have no issues getting to parts of Surrey that are within the M25. (Although I often think of anything that side of the motorway as London!)
Having turned professional in 2006 I must have performed at pretty much every major wedding and event venue in and around Surrey. The benefit of booking a magician near to you is that they know the area and this reduced the chances of getting lost or stuck in traffic. When arriving at familiar venue I know where to park, the layout of the building, and how the front of house staff like to coordinate their events. (None of this is necessary, but definitely a benefit and adds a little peace of mind to you when organising an event with plenty of moving parts.)
I perform at all types of events, typically these are weddings, corporate hospitality events, private dinner parties, birthdays, Christmas and even help draw crowds to exhibition stands.
I can entertain whilst mingling with guests during a reception, circulating around dinner tables, and even on stage with my stand-up cabaret show.
Book Robert with Confidence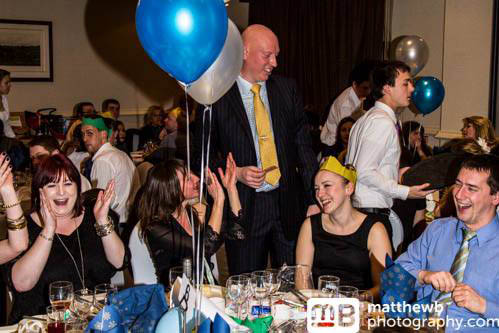 You can book me with confidence, having turned full-time professional in 2006 I have a wealth of experience. My repertoire of material has been honed from performing thousands of tricks at hundreds of events. Everything is worked in, each trick polished and perfected with years of practice and rehearsal. During this time it is fair to say that I have encountered a good selection of personality types, and my knowledge and experience allows me to make adjustments on the fly to ensure that the magic is as enjoyable as it can be for each and every one of your guests.
And if things really do go wrong, then I have £5 million Public Liability Insurance. (Although a card trick would need to go seriously wrong for that!)
The booking process is simple, and I issue formal contracts to confirm the arrangements. Payments are made through my business bank account, and I can even accept credit cards. I aim to give you peace of mind so that you can concentrate on all the other aspects of event planning, safe in the knowledge that your guests will be expertly entertained by a professional.
You can rest assured that your guests will be in capable hands seeing some amazing entertainment. Whether your guests all know each other (such as the annual company Christmas party), or are strangers and need something to break the ice (such as a wedding when different friends and families are all brought together in the same room); my interactive performance is designed to bring your guests together and get them talking. This is true of both my close-up magic, and even my mind-reading cabaret show.
A Unique Magical Experience
My performance is as entertaining as it is baffling, and creates a fantastic experience for your guests. My personal style is full of comedy and hands-on interaction with your guests.
My goal at your event is not only to entertain at the time, but to also create a memory your guests will remember for years to come. I regularly meet people who have still kept various keep-sakes as "lucky charms" from seeing me at event years prior!
Whatever the reason: weddings, birthdays, Christmas parties, birthday celebrations, exhibitions and corporate hospitality are just some of the events that can benefit from the magical experience I provide.
Contact me now to discuss how I can make your event a magical occasion. Email [email protected], request a quote, or call direct on 07930 420 257. We can also arrange to meet up (perhaps virtually by Zoom or Skype?) to discuss your event in more detail.