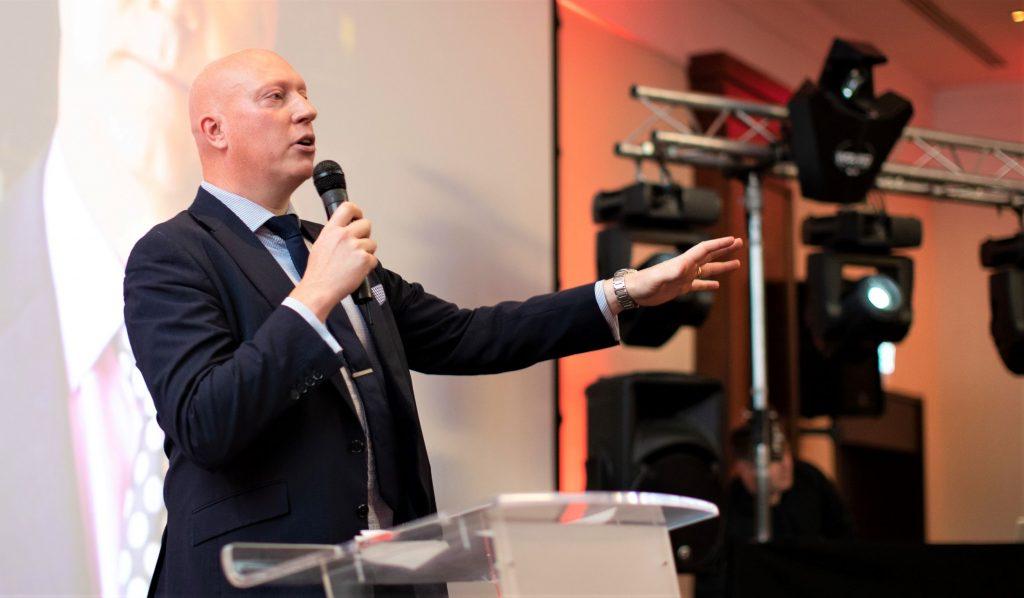 I can use skills as a corporate magician and mind-reader to entertain at a wide variety of events arranged by companies, associations and organisations.
From small private dining events to entertaining 74 tables at the Grosvenor Hotel in London; from the launch of a new Porsche (and Honda and Ford) model, to the launch of a brand new Porsche (and Ford and Vauxhall!) dealership.
Scroll down to see corporate entertainment packages and get a quote
This can include entertaining with close-up magic at the drinks reception, going around the tables at a gala dinner, and culminating a full 45 after-dinner mind-reading show. Of course, packages can be tailored to fit your needs for your event.
Should your event be particularly large then I can make personal recommendations for other trusted magicians I have worked with before, thus ensuring that all of your guests experience plenty of magical entertainment. And to have you the hassle of liaising with a group of magicians, I can handle a group booking through my own company (RJB Events Ltd) so you just have one invoice/contract to deal with – making your life a lot easier!
Scroll down to see corporate entertainment packages and get a quote
Professional Corporate Magic for Social and Promotional Events
Whether looking to entertain at social events such as Christmas Parties, Awards Dinners and special events, or promotional events such as product launches, hospitality events, exhibitions and trade shows; I am the first choice for many corporate bookers and event management companies.
Although I won't list all of the companies and brands I have worked for, a small sample that spring to mind include BT, Sainsburys, Porsche, Audi, Ford, Honda, Europcar, DeVere Venues, Holiday Inn, KPMG, Unum, Virgin Media, Sodexo, Thatcham, RMBI, The British Army, The RAF and QinetiQ. And that's just for starters! 😉
I have also performed at some exclusive venues over the years, including the restaurant at the top of the BT Tower (and it even rotated!), RAF with a 2nd World War Hurricane flew a few feet over the crowd, Brownsea Island (accessible only by a small boat) and lots of very posh country hotels.
I can entertain with close-up magic, mind reading and stand up cabaret shows. The magic and presentations can be customised if required to maximise your company's impact at promotional events.
The different styles can be combined into packages giving you terrific entertainment, great value and convenience. This is especially useful for multi-day events, or when you are providing evening hospitality to clients.
For more information please contact me directly with your requirements ([email protected] or call 07930 420257) and find out how I can make your event the talking point.