Getting Married? Planning a Wedding?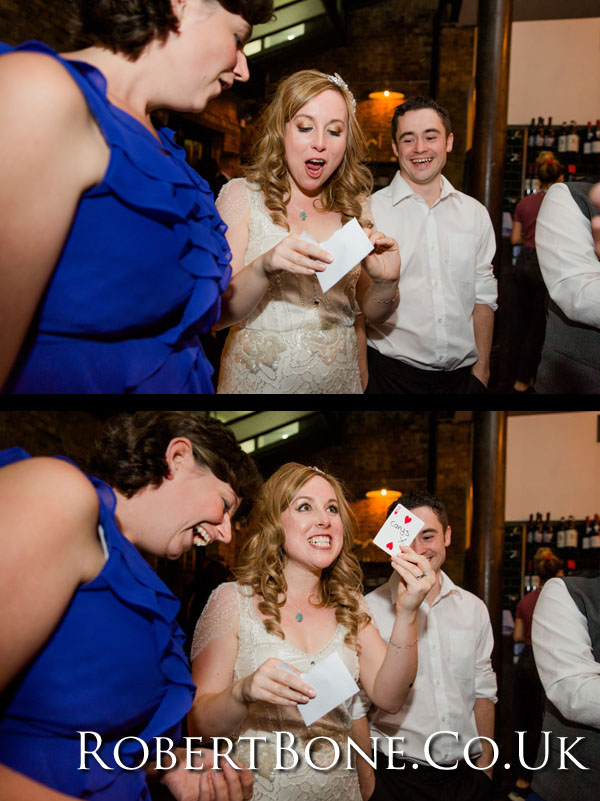 How did I know that? Because I'm a wedding magician and mind-reader. (And this is the page about weddings, which to be honest was a bit of giveaway…)
As a professional magician and mind reader I can bring a touch of magic to your day. I do this by entertaining your guests and ensuring everyone has lasting memories of your special occasion. "But every magician's website makes that exact claim!" I hear you cry. "Come on magic boy, what else do you do?!"
Well, I'll will also mess with your guests' heads. I'll make them laugh, shout, cheer and mutter naughty words under their breath. Seriously, you know that auntie of yours who is all prim-and-proper? She'll be swearing like a docker after seeing a bit of my magic.
Click Here To See Wedding Packages
Robert Bone, Magician at Wedding, Gorse Hill Woking Surrey
You have probably seen magicians at events before (perhaps even at a wedding) but how I work can vary from other magicians. I'm not one of these guys that wonders around showing the next trick in his pocket like some un-charismatic performing monkey with no social skills and jokes dating back to antiquity.
I actually have a personality and know how to interact with people. I even make sure there isn't dirt under my finger-nails either. Seriously, it's your wedding and you're paying me to entertain your guests. I want them to relax as they realise they are in the (clean) hands of an experienced professional who cares about the little details.
I make eye contact and remember your guests names as I mingle around and re-visit groups. I don't mutter things like "for my next trick", or "what I'm gonna try and do now is…". If you're paying for a magician you don't want them going round trying to do a trick, you want them to blooming well get on and do it, and do it well!
Click Here To See Wedding Packages
Robert Bone, Professional wedding magician performing card magic tricks in London
Got an uncle who thinks he knows how it's all done? Great, I've over ten years experience, I'll walk him right down the garden path -- and he'll love every minute of it!
Got some teenage cousins who are just way too cool for magic? Perfect, I'll do some of that close-up magic they've seen Dynamo do on YouTube. Not just that, I'll even do it whilst wearing a smart suit and not mumbling.
Got relatives from two different families who don't really know each other who are going to stand there in awkward silence for the afternoon whilst you are off doing your photos? Guess what, my job is to get them interacting, laughing and generally having a good time; and I do exactly that.
Lasting Memories of Your Wedding
Essentially I provide a three tier service. The first is what I do whilst I'm there, and that's to entertain. The second tier is to generate the talking point -- this starts from the moment I leave a group, throughout the rest of the day when people will be discussing what they've seen over dinner or with the evening guests.
Click Here To See Wedding Packages
Magician at wedding hypnotises one of the guests!
The third tier is my secret agenda, my long term objective. This may sound a bit odd but I want to be the story your guests are still talking about in 5 years time. When a magician comes on TV or one of your guests is at a Christmas party and guy in a cheap suit comes over I want them to say, "That was alright, but a few years ago I was at a wedding and I saw a guy do…". That's your wedding they're talking about year afterwards. And there you were searching the internet for someone to do a couple of tricks!
Standard Close-Up Magic Wedding Packages
There's two main times when I am booked to entertain at weddings; the afternoon or the evening.
If I perform in the afternoon then I'm there keeping the guests entertained during the photo period. You don't want your guests standing around talking about the weather for an hour do you? Bet you've been to a wedding like that before; boring, isn't it?!
Another popular time is in the evening after the meal whilst the disco sets up and evening guests arrive. I interact with your guests, getting their names, building groups and sparking conversation between them as I mingle around. This is great because not only do your guests get involved in the magic, but as the bride and groom you aren't going off for more photographs so have more opportunity to get involved yourselves.
Ultimate Wedding Magic (with Hosting) Package
This is a full all day package that not only ensures your guests are entertained through-out the whole day (starting from the end of the ceremony, right through to the First Dance and disco), but also includes hosting.
Close up magic at afternoon wedding reception
Calling guests to wedding breakfast
Introducing the bride and groom
Pre-dinner table magic
After-dinner show (if required)
Introducing speeches (can provide PA if required)
After-dinner table magic
Mix and mingle magic whilst evening guests arrive
Introducing cutting of the cake and first dance
Through-out your wedding I build from showing a couple of tricks -- to creating a long lasting experience.
Click Here To See Wedding Packages
Robert Bone Wedding Magician Phone in Balloon Magic Trick
You can book me with confidence, having turned full-time professional in 2006 I have a wealth of experience and should the worst happen I have £5 million Public Liability Insurance -- though I really have no idea how I could possibly do that much damage doing a card trick.
I have entertained at hundreds of weddings and events over those years. Thousands and thousands of wedding guests have been entertained.
That's a lot of knowledge and experience. Seriously, you have a member of your family who is a "bit of a character"? I've met worse. You may be paying me to be at your wedding for a couple of hours, but that short time includes 11 years of experience; and countless hours of practise, rehearsal and performance.
Every wedding is unique, and therefore have varying requirements. Because of this, and varying time constraints, I have put together a selection of packages to ensure you get maximum entertainment and value.
Adding Magic to Your Wedding Day!
Right, I can't really say much more. Well, actually I could; but you are a busy person and you got things to do. Why not just get on and book me then you can get that ticked off your to-do list. Then you can spend your time working out the important things, such as will you be going for prawn or egg-mayonnaise vol-au-vents…
Still reading? Well done, now get on a book me before someone else does.