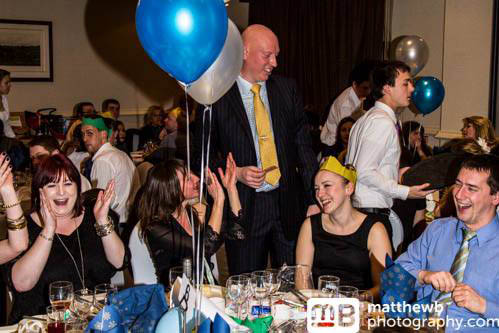 Hi, I'm Robert Bone, and I'm a professional magician and mind-reader, and as you can imagine December is a busy time entertaining at Christmas parties, lunches and dinners. (Actually, over recent year the Christmas party season starts at the end of November!)
Professional Christmas Party Magician
Christmas parties really do vary. Some can be small private parties for close friends and family members in their own home, ranging to a large event with hundreds of employees (plus their partners) in a hotel function suite or other event space.
Regardless the size of the party, my objective is always the same: give your guests good quality magical entertainment that not only gets them into the Festive spirit – but is also FUN and engaging.
From an employer's point of view Christmas is a fantastic time, with lots of parties and hospitality events. It is a great way to say 'thank you' to your staff for the hard work they've been putting in for the last year, and to thank your clients for the business they have put your way. It is important to make it a special occasion, and adding a professional magician to entertain the attendees will really make it memorable for your guests, giving them an experience they weren't expecting!
Make it more than an office night out
Unfortunately it is easy for the office party to become a little stale. This can be because people are forced to socialise with workmates out of the usual office context, or if your staff go out regularly it could become just another office outing (just with turkey and crackers!) For something that happens just once a year you need to make sure it stands out in the calendar, and will be talked and reminisced about for the rest of the year.
Close-up magic and mind-reading is a great way to help enliven the party and create talking points. This may be at the start of the evening when I mix around the groups performing close-up magic at a drinks reception. People tend of gather into small groups so this style of performing takes advantage of this, and also pulls others into the group to encourage interaction between everyone attending.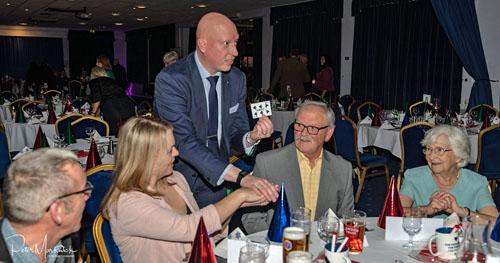 The magic can also performed around the dinner tables. This can sometimes be an awkward point in the evening as your guests may have run out of conversation – or worse still: be talking shop! I try to liaise with the venue's front of house staff to get an idea of when courses will be served, and the order they will be served in. This way I can avoid interrupting guests just as they are about to eat.
For example, I may start entertaining at the tables they will be served towards the end of the service. This way they don't feel like they have been forgotten and are waiting to eat. Once the waiting staff have got them the first tables to be served are probably just finishing up their starters, so I can entertain them whilst they are waiting for plates to be cleared and the next course to be served. This keeps a good flow and momentum to the evening, your guests don't feel like they are being kept waiting and they are seeing some amazing sleight of hand magic .
As well as close-up magic I also perform a stand-up mind reading cabaret show that has been specifically produced for corporate audiences. The show can be as short as 10 minutes, though to the full 45 minute after-dinner show, and I can supply my own PA if required.
The cabaret can be booked separately, but works great as part of a package with close-up magic – giving the whole evening a consistent theme. Feel free to give me a call so we can discuss the options to build the perfect package for you.
Some Random Reviews
New Year's Eve Parties
Another important date of the Festive season is New Year's Eve, and I can be booked to entertain at your party. After all the festivities through-out December you really need to add something unique to your New Year celebration, otherwise it risks being just another night out, but with singing "Auld Lang Syne" at midnight!
As I said right at the beginning of this page, being a professional magician I am very busy during December, and many repeat clients will often book their dates over a year in advance, so don't wait until a couple of weeks ahead – especially for some of the key dates in the month.
So please do contact me whatever time of year it is to add some magic to your Christmas party. Complete the request a quote form, email or call 07930 420 257.