If you are organising an Alice in Wonderland themed party then look no further, as you've just found the best addition to your event: The Magic Mad Hatter!
As well as performing my regular close-up magic dressed in a smart suit, I also perform as the Magic Mad Hatter. Please note that this isn't just me performing my usual magic but wearing fancy dress (as most "Mad Hatter" magicians so), but a character developed by studying the original books by Lewis Carroll.
The Mad Hatter Does Magic!
There have been so many versions of the Mad Hatter, from the original illustrations by Sir John Tenniel, through to the Disney animated cartoon, and Johnny Depp's character in the live action (with plenty of CGI added!) films. Even Salvador Dali painted artworks inspired by the Alice in Wonderland books.
Because there so many incarnations and interpretations, and people have their personal favourites; therefore I thought the best and most organic Magic Mad Hatter would be my own creation, instead of trying to look like someone else's imaginings This means I have brought some of my own mannerisms to the character – which perhaps isn't quite so "mad", but allows the magic to happen naturally without suffocating it with needless wackiness.
This makes my portrayal perfect for weddings, parties and Alice in Wonderland themed corporate events where the majority of the guests are adults. Unfortunately it isn't suitable for children's parties – though naturally I do have a couple of tricks me to ensure children do see some Mad Hatter Magic when they are at a family event.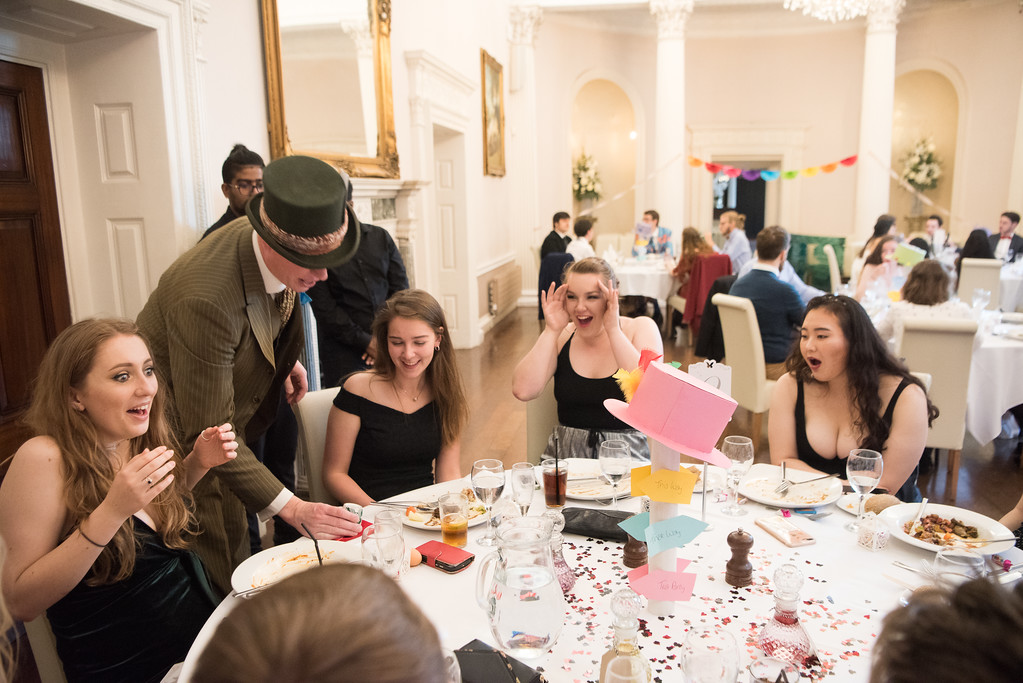 "I just wanted to say a huge thank you for your performance at the Alice in Wonderland themed event on Sunday, you did a great job and I've had so many great comments about your work; you were very popular!"

Katie K, Nottingham
Because I have styled my own personal magical Mad Hatter character it has the added advantage that if any of your guests are wearing Mad Hatter themed costumes I will still stand out from the crowd – so your guests will know which Mad Hatter is the one that does magic!
Close Up Magic and On Stage Mind-Reading
At most events I am booked to perform what is termed as 'Close Up Magic', or 'Table Magic'. This is where I mingle with guests at a drinks reception or party, perhaps mixing around the tables if guests are dining – naturally avoiding them whilst they are eating, but liaising with the staff to ensure your guests see some great magic between the courses.
The performance isn't just limited to close-up, as I can also include performing cabaret on stage. This can be a separate show, or as part of a package including close-up magic and after-dinner cabaret. Of course, it is all in keeping with the Mad Hatter magical theme.
But not only is the costume unique, but so is the magic and performance. I will include much of my popular repertoire that customers already love, and has been honed by thousands of performance over many years (I became a full time professional magician way back in 2006). However, this material has been given the a dusting of Mad Hatter Magic.
Although working from my pockets the tricks can entertain groups and whole tables, but they are presented with a twist that keeps the performance within your Alice in Wonderland theme. Not only this, I have developed some special tricks that are unique to the Magic Mad Hatter!
Introducing Magic Alice
For larger events the I can also be booked alongside Magic Alice (aka Kerry Scorah) – a professional female magician – who likewise is an Alice in Wonderland themed performance. We both perform different tricks so should we overlap tables your guests won't be seeing the same magic. Magic Alice can also perform cabaret, and can even team up to provide you with the ultimate Alice in Wonderland double-act magic cabaret show.
To find out more please email [email protected], call 07930 420257 or complete the quote request form. Please make sure you mention that your event is going to be Alice in Wonderland themed though – otherwise I'll just give you the information for a regular party!