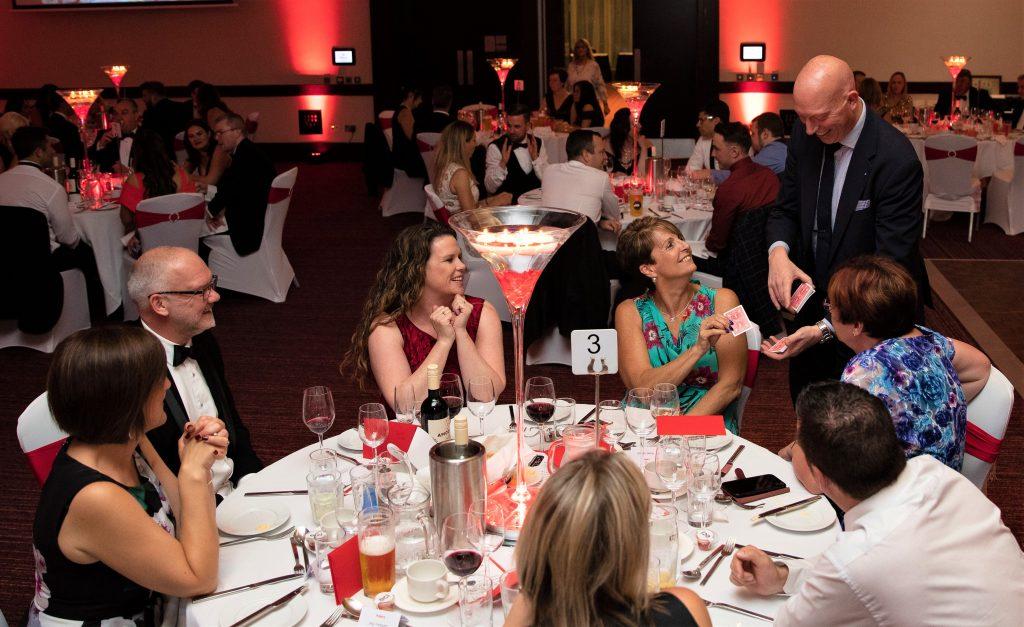 This really is the Ultimate Wedding Package – and secures my services for the entire day for your wedding. It's a lot more than just performing magic at the receptions, but I run the entire day by taking on the role as host/mc/emcee/toastmaster (a lot ways to the say the same thing!) in a fun and interactive way; and of course magic is integrated in every step of the proceedings.
If you want to make you whole day magical (and not just a few hours at the reception) then you need this package.
If you want to ensure the day runs smoothly and as stress free as it possibly can be, then you really need this package!
There is a lot to take in, and of course all weddings are different; so please get in contact with me to ask questions and discuss your needs. This package is designed to work around your requirements to give you the bespoke day you deserve, the following is a guide for typical wedding.
Before your wedding day:
Meet to discuss your wedding plans in detail (this can be done in person, or Zoom/Skype)
Create a running order for the day
Work out how to make your day as special and unique as it can be
Confirm details with you, the venue and anyone else involved a week prior to the wedding to ensure the day goes smoothly
On your wedding day:
Primary point of contact for you and your guests on the day
Liaise with the venue staff and suppliers to ensure smooth
Set up PA
Ensure the reception venue is prepared to your requirements
Welcome guests as they arrive for the wedding reception
Work with the photographer to ensure you get the best shots, quickly and efficiently
Entertain and relax your guests with close up magic at afternoon wedding reception
Provide background music (including your pre-requested songs)
Call the guests to wedding breakfast (organising receiving line if required)
Introduce the bridal party and the happy couple – either formally or in "special and memorable" way! 😉
Pre-dinner table magic
Special tricks for the top table
After-dinner mind-reading show
Introduce the speeches (providing microphone & PA for the speeches)
More close-up magic around the tables whilst finishing teas and coffees
Mix and mingle magic whilst evening guests arrive (and main room turned around)
Introducing cutting of the cake and first dance
Remember: All details and timings are worked out in advance to ensure your day runs smoothly