Last summer I was booked to perform magic at the wedding of Carys and Steve at Harrild & Sons; a traditional pub in the centre of London, sandwiched between the modern architecture of corporate glass fronted office blocks. Inside the venue oozed rustic qualities, with bare wooden floors and exposed beams.
To say it was quirky would be one thing, though I'm sure others would class it a hipsters' paradise. 😉
Whilst entertaining I was working alongside London based wedding photographer Sarah Ann Wright. Sarah recently forward me some great photographs that she took.
What I feel works well is that Sarah managed to capture the moment. However, she also managed to capture the context of trick, and though pictures of wedding guests are great – seeing what they are reacting too helps build the bigger picture of the day (especially years later, or when showing pictures to people who didn't attend on the day).
Here's a selection of photographs that Sarah kindly forwarded over to me:
Seeing how reactions evolve from that moment of initial surprise to the confused melting pot of emotions as the brain tries to make sense of what it has seen, I thought it interesting to combine two pictures taken just moments apart together. The fact it was also the bride is a bonus! 😉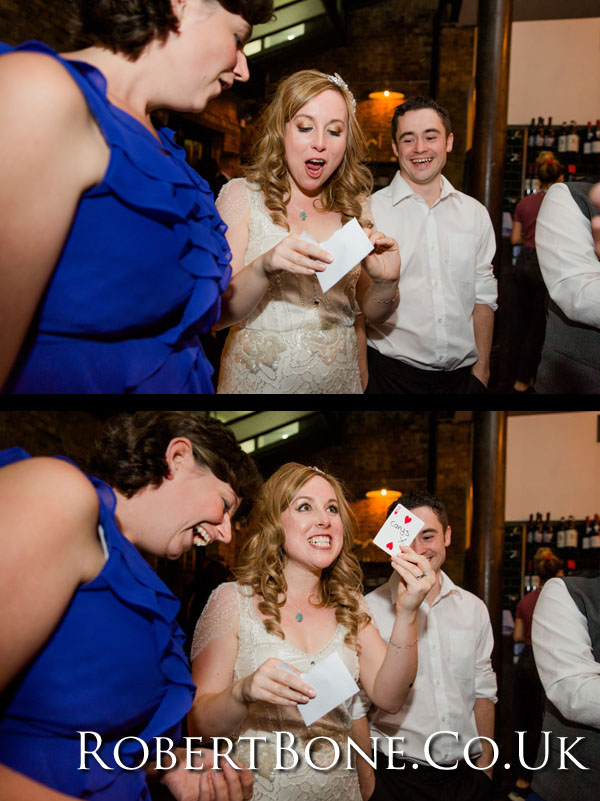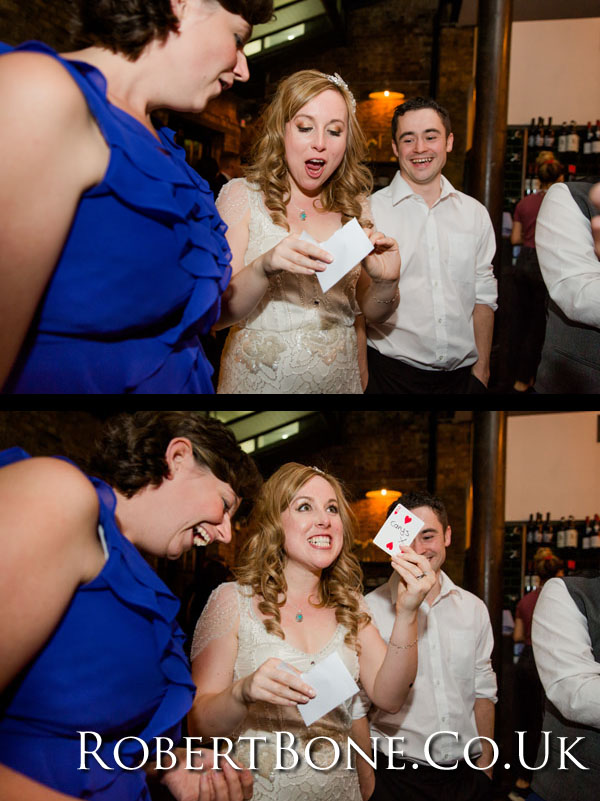 Taking it a little further, I combined some more pictures of performing into a little animation. Coincidentally it was of the same trick, but great to see people still reacting so well to card trick – I'd like to think I make it fun and entertaining at the same time!
I then went a little further and added a little more 'production' value by making them videos – with music and everything. Although I've done this before, it amazes me how a series of still pictures and convey the action, fun, amazement and emotions experienced by the guests at a wedding or event.
Find out more about Sarah Ann Wright Photography at her website: www.sarahannwright.com.
To find out more about how I can entertain your guests (and help create some great photographs for your wedding album!) please contact me for a quote.
Great photos by Sarah Ann Wright