Had a trip to the seaside last weekend as I popped down to the South Coast to perform close-up magic at a 70th birthday celebration in the town of Swanage  in Dorset. Although I used to live not too far away (in Poole) I don't tend to go down there too often now, but actually been down there a couple of times for various events over the last couple of months.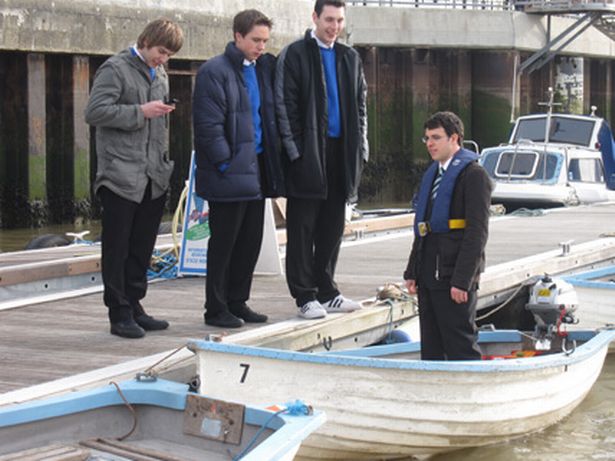 Anyway, even though Swanage is famous for it's sailing and the annual carnival, every time I think of it two thoughts come to mind:
Neil punching a fish to death in The Inbetweeners,
Is is best to drive the long way round (via Corfe Castle), or cross via the ferry linking Sandbanks to Studland. Although quicker and shorter it sometimes has queues. And costs a couple of quid.
Neil punching a fish to death in The Inbetweeners.
(I know I said two points, but (1) is such a vivid scene it's hard to get out of your mind.)
Anyway, I entertained at Liz's 70th birthday celebrations at Swanage Sailing Club. This was a great evening where Liz had invited plenty of family, friends and colleagues to help her celebrate. I started off mingling with her guests as they arrived, then continuing around the tables – naturally avoiding the guests who were eating, but working around those that were waiting to eat, and those that already had eaten.
Following the meal I finished of the magical entertainment by performing a short cabaret show for the guests. I really like doing this as it is something that all the guests enjoy at the same time. It also involved some of the audience members so it has a real interactive feel to it. It also is something which can only really be described as completely impossible. Trust me, it really gives a creates a talking point afterwards.
A couple of days later Liz sent me an email:
Hi Robert

Can I just say a massive thank you for the great show on Saturday night.  So many of our guests have said "how did he do that!" and how much they enjoyed it.  The cabaret at the end was the icing on the cake!

I am so sorry that you didn't get anything to eat, the time seemed to just fly by.

Once again, many thanks.

Kind regards

Liz
I personally had such a good time that the whole two hours flew by with me only picturing the scene of Neil from The Inbetweeners punching a fish only a dozen or so times.
If you are organising a birthday celebration and would like to find out more please complete the contact form or email [email protected] with the details and I'll get back to you within a couple of hours – if not sooner.
Magic and Mind-Reading Cabaret in Swanage, Dorset